Pest Control Services In Jacksonville, FL
With its subtropical climate and idyllic location right along Northeast Florida's Atlantic coastline, the city of Jacksonville is a perfect vacation destination and an even better place to call home. However, Jacksonville's temperate climate and abundance of nature also makes it an ideal environment for many pests. While many pests remain out-of-sight and out-of-mind, the minute you start noticing them around your home or business, don't hesitate to reach out to our pest control specialists in Jacksonville, FL!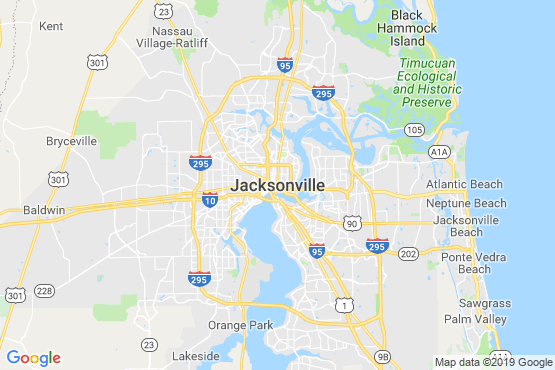 Our pest control company has been providing effective and affordable pest control service to Florida home and business owners for over 30 years. Equipped with advanced training and innovative pest control technology, our exterminators can identify conditions that make properties susceptible to an infestation, tackle current pest issues, and halt pest life cycles to prevent the occurrence of an infestation in the future. Whether you need residential pest control or commercial pest control, look no further than Champion Termite and Pest Control, Inc.!
Contact us today to learn more about our pest control services or to schedule a free pest inspection!
Common Pests In Jacksonville, FL
The greater Northeast Florida area plays host to a plethora of insects, arachnids, rodents, and other creepy-crawling pests that homeowners won't want anywhere near their property. Below, we've listed the most common pests property owners might encounter in Jacksonville. If you encounter a pest you don't recognize, check out our pest identification guide and then contact us for a property inspection from an experienced exterminator!
Bed Bugs
Carpenter Ants
Centipedes
Cockroaches
Crickets
Drywood Termites
Fire Ants
Fleas
Formosan Termites
Hornets
Mites
Moths
Mosquitoes
Powder Post Beetles
Scorpions
Silverfish
Spiders
Stinkbugs
Subterranean Termites
Ticks
Wasps
Jacksonville Pest Control & Bug Exterminators
Pests are more than just a minor nuisance; they also pose serious health risks and can even compromise the integrity of your home or business, causing costly property damage throughout the course of an infestation. The experienced team of exterminators with Champion Termite & Pest Control, Inc. has the tools and expertise necessary to deal with any pest that threatens your property. We offer a 12-step program for effective identification, control, removal, and prevention of pest infestations for commercial and residential properties. With professional services from our skilled pest exterminators — pests don't stand a chance.
Our 12-Step Pest Control Program
At Champion Termite and Pest Control, Inc., our services combine the latest innovations in pest control technology and practices with the skill and experience of our highly-trained exterminators. We create customized plans to eradicate pests from your property and prevent their return in the future. We utilize a 12-step pest control program to eliminate pests from your property and prevent their return in the future. Our comprehensive treatment plans include baiting behind wall plate covers where bugs commonly breed; treating cracks and crevices in hard-to-reach areas, such as plumbing; baiting under appliances and within attics and crawl spaces; sweeping-down spider webs on property exteriors; applying a repellent around windows, doors, eaves, and the base of properties as well as a 3-foot-wide band of moisture-activated granules around the property perimeter. In addition, our customers can expect a follow-up call two weeks after their service to ensure their results are satisfactory, as well as a quality control visit six months after treatment to reapply exterior treatments and ensure pests do not return. Pest prevention has never been so easy!
Bait Around Trees & Shrubs
3-Foot Band Of Moisture Activated Granule
Sweep Down Exterior For Service
Apply Clear Drying Barrier To Exterior
Treat Attic & Crawl Space
Inject Dust In Wall Outlets
Inject Bath & Kitchen Kickplates
Bait Under Heavy Appliances
Treat Interior Cracks & Crevices
Apply Gel Bait
Ten-Day Follow-Up Service Call
Six-Month Follow-Up*
*First Four Steps Repeated
Bed Bug Removal In Jacksonville, FL
Worried about bed bugs? Our bed bug removal services can help ensure you sleep easy! Champion Termite & Pest Control offers specialized bed bug treatment to rid your home of unwanted pests. Our bug exterminators help customers take control of infestations with specially designed heat equipment and an encompassing approach to bed bug control and removal. With 30 years of experience in the pest control industry, our exterminators have the knowledge, skills, and innovative equipment to eliminate existing bed bugs and implement bed bug prevention measures to minimize the chance of an infestation in the future. Contact a bed bug exterminator with our pest control company today to schedule bed bug control.
Common Signs Of Bed Bugs
Bed bugs find their way into residential structures via luggage, furniture, mattresses, and even clothing. The initial signs of infestation typically include tiny red or brown-colored spots on linens and mattresses. Still, bed bugs can hide anywhere in a home, including bedside dressers, in the mattress and box spring, and in cracks and crevices adjacent to the bed. While full-grown bed bugs may be easily seen with the naked eye, younger bed bugs and bed bug eggs can be difficult to spot without professional help. Bed bugs commonly leave behind the following evidence.
Shed skins, exoskeletons, or shells
Fecal stains on bedding and linens
Bloodstains on sheets and bedding
Raised, red bites on the skin
Professional Bed Bug Treatment In Jacksonville, FL
When it comes to bed bugs, detection is critical to breaking the bed bug life cycle before the issue transforms into a disaster — in just a few months, a few bed bugs can multiply into a full-blown infestation of more than 10,000 bed bugs. Our pest control experts have more than 30 years of experience performing high-quality pest extermination services for the safety and comfort of residents throughout the greater Northeast Florida regions. We provide effective bed bug inspection, control, and treatment through powerful, customized bed bugs heat treatment that eliminates bed bugs where they live and breed. During the home pest control process, we carefully assess each area of the home, diligently implement a customized solution, and actively monitor the area to ensure the elimination of any trace of the infestation.
Bed Bug Prevention
A pest infestation of any kind is already a headache for homeowners, but bed bugs are a next-level nuisance, and potential health concern, that requires extensive knowledge and care to be removed. At Champion Termite & Pest Control, our pest exterminators are well aware of the common and hard-to-reach areas bed bugs tend to hide and are equipped to eliminate all stages of bed bugs — from egg to fully grown — in just one treatment, without the use of harmful chemicals. Once eliminated, regular inspections from our Jacksonville pest control company can help ensure budding infestations are located and a proactive solution is implemented before a major bed bug invasion occurs. To keep your home pest-free year-round, schedule service from our skilled bed bug exterminators!
Termite Inspection & Control In Jacksonville, FL
Termites are widely regarded by pest professionals as one of the most damaging pests to residential and commercial properties due to their propensity to compromise a structure's integrity by consuming cellulose. A termite colony can comprise over one million hungry workers who have the ability to consume hundreds of pounds of wood every year. Needless to say, property owners should schedule termite exterminations as soon as they notice signs of infestation. Champion Termite and Pest Control, Inc. offers all-encompassing termite control solutions designed to protect properties from the dire ramifications of termite infestations. Contact us today to schedule service from an experienced termite exterminator!
Benefits Of Professional Termite Control & Treatment
Professional Inspections & Insight
Termites are often mistaken for winged ants, which are considerably less dangerous pests. Moreover, termites often hide in hard-to-access places that most property owners wouldn't think to check for them. For these reasons, it's best to have a termite specialist from our pest control company perform a thorough inspection and ensure your property is termite-free on your behalf.
Minimize Property Damages
Termites can enter buildings through small cracks and eat away at the foundation without leaving any evidence, potentially causing thousands of dollars of extensive damage and decay. Receiving service from a pest control expert is the quickest way to banish termites from your property and minimize the amount of damage they're able to do.
Peace Of Mind
Unfortunately, the earliest signs of a termite infestation often go unnoticed. Our termite treatment services are designed to not only eradicate any termites that may be hiding on your property but also help prevent them from nesting on your property in the first place. With our termite prevention services, you can rest easy knowing your property is safe from the threat of termites.
How To Identify A Termite
In terms of appearance, termites look like pale-toned, soft-bodied insects approximately one-quarter inch (or less) in length with straight antennae. Termites with wings, or swarmers, have pigmented bodies with broad waists and identical wings. In contrast to termites, winged ants have pinched waists, two pairs of wings - the front wings are bigger than the back wings - and they also have an elbowed antenna. The best way to identify termites on your property is with the assistance of a pest control professional. If you believe you have termites, schedule a pest inspection as soon as possible.
Contact Us For Pest Control In Jacksonville
Champion Termite & Pest Control offers natural pest control services that take into account both the environment and the well-being and safety of our customers. The Champion Termite and Pest Control, Inc. team offers a variety of pest control and extermination services that can identify, target, treat, and prevent pests from invading your property. To learn more about our exterminators or to schedule services, contact us today!