Are You Attracting Termites?
You may be surprised to find termites on your property or in your home, but there's likely something drawing them to the area. There are several factors contributing to the presence of termites, and to help determine the source of the infestation, our pest exterminators with Champion Termite & Pest Control have documented some common things that attract termites.
Full Gutters
Termites thrive in moist environments, and clogged gutters make the perfect home for these pests. An excessive buildup of leaves and other debris can also weaken the surrounding insulation, providing an easy pathway for termites to make their way into the home. Regularly cleaning gutters and keeping down-sprouts free of debris is an easy way to practice termite control.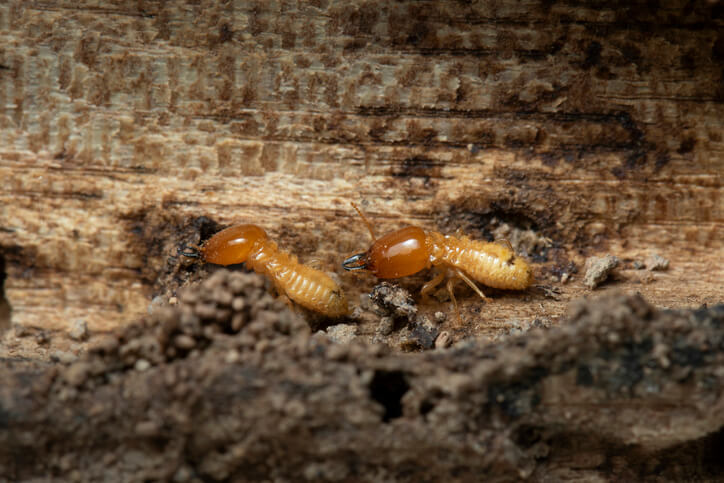 Leftover Trees
Tree stumps and other decaying materials are a huge source of food and nutrients for a colony of swarming termites. Once a decayed stump is entirely cleared of resources, termites will quickly search for a new place to feed. For many unlucky individuals, this means their home is next on the menu. Remove tree stumps and yard debris sooner rather than later, as at any point termites can begin making their home in fallen and decaying plant matter.
Mulch
Mulch is full of moist nutrients that are perfect for keeping plants looking healthy. Unfortunately, this also means they're an attractive source of food for termites, leading to a quick infestation if not properly maintained. Any mulch on the property should be kept at least 15 inches away from a home's foundation, and if termite activity is noticed, contact a pest control company right away.
Standing Water
Excessively wet soil or pools of standing water around the foundation of a home can give termites a good starting place for their colony. Termites tend to thrive in wet, moist environments, as damp cellulose and other wood material are easier for them to digest when damp. Take time to ensure proper drainage is available surrounding a home and that no excessive amounts of water linger close to the foundation.
Firewood & Woodpiles
More often than not, termites and other pests find their way into the home due to a resident bringing them inside. Firewood and other wood piles are attractive to termites, and a homeowner can unknowingly bring in an infested log. In order to avoid termites making their way from woodpiles to a home, the National Pest Management Association recommends keeping wood stored on raised structures that are at least 20 feet away from the home, as well as inspecting and shaking off wood before it is brought inside.
Greenery On The House
Trees, shrubs, and other greenery growing on the house provide a pathway for termites. Once inside of the home, the only way termites can be eradicated is with the help of professional pest control services. To prevent termites from having easy access to the interior of the home, trim back any tree branches that rest on the home, and keep greenery from making direct contact with the outside walls of the house.