Identify common pests found throughout the greater Northeast Florida region both in residential and commercial properties with our pest identification resource. If you require assistance with identifying a pest and would like to schedule a free property inspection or you want to discuss your insect issue with the team at our pest control company in Northeast Florida, we are happy to help! Champion Termite & Pest control offers comprehensive pest control and infestation prevention services for the benefit of our customers and their properties.
Our exterminators are highly trained to effectively manage and remove any pest variety by utilizing the latest innovations in pest control technology and practices.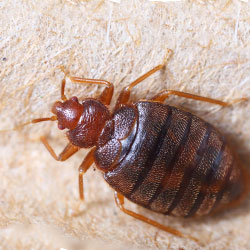 Bed bugs are parasitic insects commonly found in bedding, mattresses, and areas in which humans sleep. These insects feed on the blood of mammals and birds and are attracted to body heat produced by their host.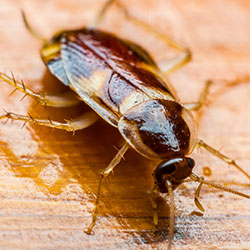 Brown-Banded Cockroaches
Among the smallest variety of invasive cockroach, brown-banded cockroaches commonly hang out in cabinets, pantries, and closets. These roaches consume items with high contents of starch, such as books and wallpaper.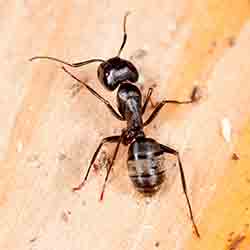 Carpenter Ants
Carpenters burrow and cause damage to wooden structures to build nests — unlike termites, carpenter ants do not feed on wood. This ant species are attracted to warm, moist climates and damp lumber or wood.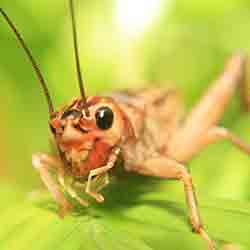 Crickets
Crickets are among the most common household pests in Northeast Florida, including mole crickets, camel crickets, ground crickets, house crickets, and field crickets, which infest properties in high numbers.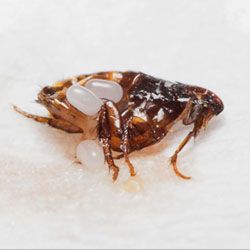 Fleas
Fleas are wingless parasites that feed on the blood of mammals and birds — the most common variety is the cat flea. These pests can pose a severe health risk to both humans and pets and reproduce in large numbers.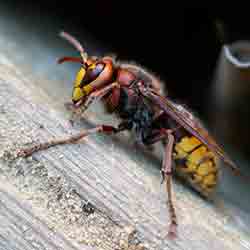 Hornets
Bald-faced hornets, European hornets, and yellow jackets are the three most common types of hornet found in Northeast Florida. This insect is part of a large colony, which, if disturbed by a human, may trigger a swarm attack.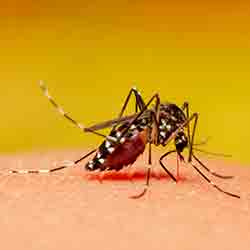 Mosquitoes
The mosquito is a type of fly with a thin body and wings and long legs. Female mosquitoes feed on the blood of warm-blooded animals, such as humans, which may result in severe skin irritation and medical concerns.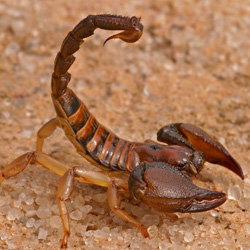 Scorpions
Florida is home to three species of scorpions, two of which can be found in Northeast Florida — the Florida bank scorpion and the hentz striped scorpion. These arachnids are not considered deadly, but scorpion stings can be painful.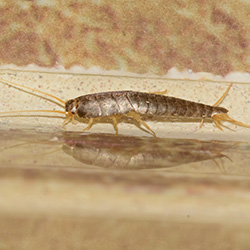 Silverfish
Silverfish are nocturnal insects which thrive in dark and humid spaces, such as garages, attics, sheds, kitchens, and bathrooms. These insects can cause considerable property damage due to their powerful appetites.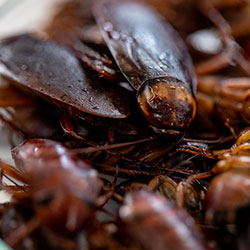 Smokybrown Cockroaches
Smokybrown cockroaches are typically found on ground-floor levels of buildings and attract to leaking roofs, standing water, stacks of wood, exposed trash, and sewer openings. These cockroaches also spread bacteria.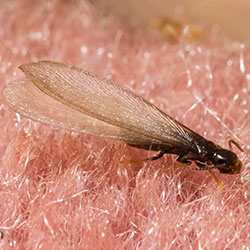 Subterranean Termite Swarmers
Subterranean termite swarmers, or alates, are winged reproductives that are black or yellow-brown in color and feature grey or brown-colored wings. Swarmers leave their parent colonies to mate and establish new colonies.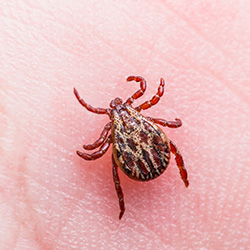 Ticks
Ticks are parasites that consume blood to satisfy each of their nutritional requirements. Florida's deer ticks, American dog ticks, brown dog ticks, and lone star ticks often carry a number of different diseases, such as Lyme disease.