Bed Bug Treatment & Extermination Services
Getting a good night's sleep is vital to not only your physical health but also your mental health. But, getting a restful night's sleep can be difficult with the threat of bed bugs crawling on you during the night. If your home has developed a bed bug infestation, slipping off into dreamland might be more difficult than you expect. If you are worried about bed bugs, you can count on our pest control company so you can rest easy with professional bed bug services.
At Champion Termite & Pest Control, our services for bed bug treatment offer all-encompassing solutions to protect properties from bed bug infestations in Palatka, Green Cove Springs, Middleburg, Orange Park, St. Augustine, and Starke. Contact our pest control company today to schedule a free property inspection and receive a complimentary service quote.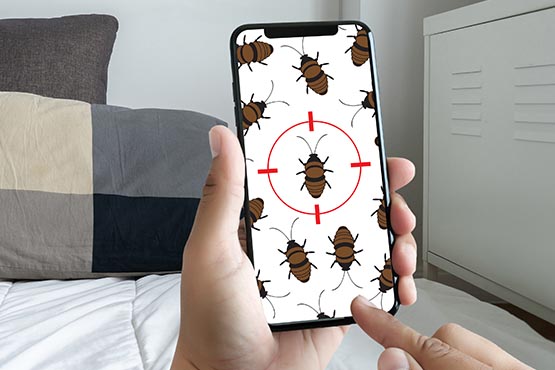 Bed Bug Control, Removal, & Extermination Services
The resurgence of bed bug infestations throughout the country is cause for concern, especially with such high concentrations in Florida. Bed bugs aren't just a nuisance, though. These troublesome household pests can pose potential health risks to those with whom they come in contact, such as transmitting lime disease. These parasitic insects don't just bite humans, they feed on the blood of mammals and birds and are attracted to their host's body heat. With over 30 years of experience and using the latest in pest control technology, our bed bug exterminators are ready to tackle your bed bug problem and prevent any future infestations.
Our bed bug remediation company is able to perform a thorough inspection of your home or business using strategic vacuuming with state-of-the-art high particulate air (HEPA) equipment, thermal remediation heat treatment throughout infested areas, and the professional application of natural pest control insecticides to wall voids and heavily infested areas. We also will provide two follow-up inspections after the initial treatment to ensure that all the bed bugs on your property have been eliminated.
Benefits Of Bed Bug Heat Treatment
When it comes to bed bug treatments, Champion Termite & Pest Control boasts the latest technological innovation for bed bug removal — bed bug heat treatment, a safe and effective alternative to traditional fumigation with chemical solutions. Heat treatment for bed bugs utilizes high temperatures to remove all traces of bed bugs without the use of harmful chemicals, so homeowners can rest assured that they are safe to return home directly after treatment. What's more, only one treatment is required, as thermal remediation can penetrate even the smallest cracks, holes, and crevices. For quick, natural, and effective eradication of all traces of a bed bug infestation, contact us today!
Heat Can Kill Pesticide-Resistant Bugs
The skin of bed bugs sheds five times as they grow and mature. When bed bugs are exposed to pesticides during their life cycle, they often develop resistance to those chemicals, and they can even breed pesticide-resistant offspring. Bed bug heat treatment is one of the most effective methods for eradicating pesticide-resistant bed bugs.
Chemical Free
Insecticides are meant to get rid of tough infestations, and as a result, they include strong chemicals that can be harmful to people and animals in the home or workplace. The use of these pesticides necessitates the evacuation of persons on the premises for a length of time until the fumigation is completed. With heat treatment, those who live or work on the property can return when the session is completed and the temperature has returned to bearable levels.
No Evacuation Necessary
Bed bug heat remediation does not necessitate evacuation, which is especially beneficial when only a single location needs to be treated for bed bugs. Heat treatment, for example, is advantageous for hotels since one room may be treated independently of the others. This method of bed insect elimination is not only safe but also efficient and cost-effective.
Damage-Free
When one of Champion Termite & Pest Control's exterminators performs thermal remediation for bed bugs, they can help make sure that your valuables and interior spaces are kept secure and damage-free. Customers can also get a list of heat-sensitive things that need to be removed before the treatment from our extermination company.
Bed Bug Inspection & Extermination For Active Infestations
For those who aren't familiar with home pest control, spotting the early signs of a bed bug infestation can prove to be difficult. But, even if you were to discover signs of bed bugs on your property, there isn't much you can do without professional bed bug removal. Our highly trained exterminators are able to conduct a pest inspection for your residential and commercial property, identify the pests and the source of the infestation, create a custom solution to fit your needs, and monitor activity to help ensure that the treatment has been effective in removing the pests. Contact us today to schedule a free inspection or to get a free quote on our bed bug removal services.