Termite Extermination & Pest Control Services In Palatka, FL
While the gorgeous Florida weather makes living in the state feel like heaven, it also provides a haven to more than 12,500 different insect species, with almost all new species making this state their home each year. Without adequate prevention from a Palatka pest control company, it is not uncommon for everyday pests to make their way into your home. When it comes to pest control in Palatka, FL, and the greater Northeast Florida region, experience is key to ensuring a pest free environment.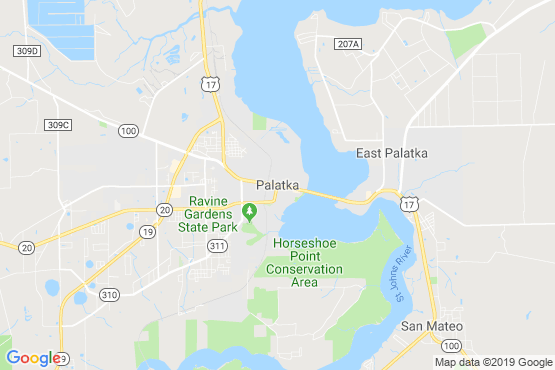 Champion Termite & Pest Control has over 30 years of experience in the pest control industry and specializes in all types of extermination services, including pest control, termite control, and bed bug removal — via bed bug heat treatment. Our local pest control company provides residential and commercial pest control, so whether you are concerned about ants, cockroaches, bed bugs, termites, or any other types of pests, we can safely and effectively inspect, treat, and monitor your property to prevent future pest infestations.
Contact our pest control company to schedule a free property inspection and receive a complimentary service quote.
Pest Control & Extermination In Palatka, FL
Pests can be more than just a nuisance, as they can threaten the integrity of your property and pose a threat to your health. At Champion Termite & Pest Control, we can handle any type of pest, and our exterminators also have the expertise to identify, control, remove, and prevent pest infestations in your commercial or residential property.
Our 12-Step Pest Control Program
Our pest control services utilize the latest innovations in pest control technology. Our exterminators are able to create customized plans designed to eradicate pests from your property and help prevent them from returning. Champion Termite & Pest Control uses a 12-step pest control program for integrated pest management. This includes baiting behind wall plate covers, where bugs commonly breed; treating cracks and crevices in hard-to-reach areas, such as plumbing; baiting under appliances and within attics and crawl spaces; sweeping spider webs from property exteriors; and applying a repellent around windows, doors, eaves, and the base of properties, as well as a 3-foot-wide band of moisture-activated granules around the property perimeter. After our initial round of pest control, our customers can expect a follow-up call two weeks after their appointment to ensure they are satisfied, and we will try to schedule a visit six months following the initial treatment to help make sure pests stay off your property.
Bait Around Trees & Shrubs
3-Foot Band Of Moisture Activated Granule
Sweep Down Exterior For Service
Apply Clear Drying Barrier To Exterior
Treat Attic & Crawl Space
Inject Dust In Wall Outlets
Inject Bath & Kitchen Kickplates
Bait Under Heavy Appliances
Treat Interior Cracks & Crevices
Apply Gel Bait
Ten-Day Follow-Up Service Call
Six-Month Follow-Up*
*First Four Steps Repeated
Bed Bug Treatment & Removal In Palatka, FL
Florida has a high concentration of bed bugs, and there has been a resurgence of bed bug infestations throughout the country. Bed bugs are parasitic insects that feed on the blood of mammals and birds, plus they can also pose potential health risks to those they come in contact with. Our bed bug exterminators perform a thorough inspection of your home or business and treat them using state-of-the-art high particulate air equipment, thermal remediation heat treatment, and the professional application of natural pest control insecticides. We also provide two follow-up inspections after the initial treatment to make sure your property is bed bug free!
Benefits Of Bed Bug Heat Treatment
Heat Can Kill Pesticide-Resistant Bugs
When bed bugs begin to grow and develop, they shed their skin five times. Bed bugs that are exposed to pesticides during their growth cycle can often become resistant to those substances, and they can even produce offspring that are more resistant to pesticides. Bed bug heat treatment is a solution to this, as it is one of the best ways to eradicate pesticide-resistant bed bugs.
Chemical Free
Insecticides have been designed to eliminate stubborn infestations and therefore contain harsh chemicals that can be toxic to humans and animals in the home or business. Using these pesticides requires those in the property to vacate for a period of time, until the fumigation is complete. With heat treatment, those who live or work in the property are safe to return after the session and after the temperature gets back down to livable conditions.
No Evacuation Required
As previously stated, heat treatment for bed bugs does not require evacuation, which is especially true when only a single space needs bed bug extermination. For example, heat treatment is helpful for hotels as each room can be treated without affecting the other rooms. Aside from being safe, this method of bed bug extermination is efficient and cost-effective.
Damage-Free
When heat treatment for bed bugs is conducted by one of Champion Termite & Pest Control's exterminators, they can ensure that your belongings and interior spaces are kept safe and damage free. Our professional extermination company can also provide customers with a list of heat sensitive items that must be removed before the treatment.
Termite Inspection & Control In Palatka, FL
The earliest signs of termite activity often go unnoticed and without proper treatment, termites can eat away at the foundation of your property. Our professional termite inspection and effective termite control are essential to the soundness of any home or business located in Palatka, FL.
Benefits Of Professional Termite Pest Control & Prevention
Professional Inspections
While you might think that you are pretty good at telling one household pest from another, termites often hide in places that you normally wouldn't think to check. This is why it's best to have our professional termite control company perform a careful inspection, so you don't miss any signs of a termite colony in your home.
Minimize Damage
Termites can enter any property through small cracks and eat away at the foundation without any visible evidence, possibly causing thousands of dollars worth of extensive damage and decay. If you are worried about a termite infestation or have seen signs of a potential termite problem, contact us immediately, so we can help protect your home or business.
Peace Of Mind
The first signs of termites often go unnoticed and with more and more species of termites making their way to Florida, termites pose a very daunting threat to your residential or commercial property. With our termite control services, we can stop termite problems in their tracks, so you can rest assured that your home or business is safe from termite infestations.
Monitor Other Pests
When our pest control company conducts a termite inspection, our pest exterminators also look for signs of other pests and potential conditions for future pest infestations. For a complete examination, treatment plan, and peace of mind that your investment is protected, contact our professional pest control company today.
How Our Pest Control Company Can Help
Residential and commercial properties in Palatka both rely on our pest control services to help keep harmful and potentially destructive pests, such as bed bugs and termites, off their property. Our exterminators have years of experience and are able to provide your residential or commercial property with the highest degree of risk management, reassurance, and responsiveness to help solve any pest or infestation issue!