Everything You Need To Know About Termites
Termites are pesky insects, no longer than a centimeter, that can cause thousands of dollars of structural damage to your home. Unfortunately, many homeowners only see signs of damage too late, but once these sneaky bugs have made their way into your home, the infestation cannot be controlled by do-it-yourself methods. Our pest exterminators at Champion Termite and Pest Control, Inc. are here to teach you everything you need to know about termites.
If you suspect a termite infestation in your home, contact our pest control company today for termite control and treatment services, to schedule a free pest inspection, or to learn more about our pest control services!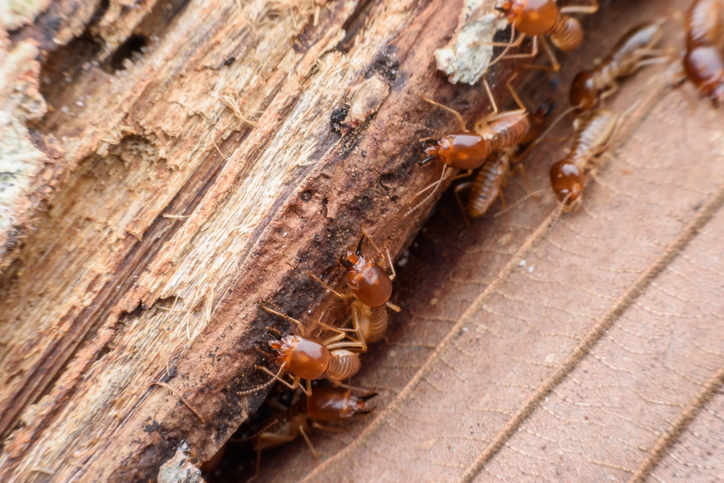 What Are Termites?
Termites are small insects that feed on cellulose found in dead trees, wood, and plants. They prefer to live in dark, dank places, making the foundations and walls of your house a perfect habitat for them. If left unchecked, the termite population in your home can reach hundreds of thousands fast.
Types Of Termites
In North America, there are two primary types of termites. Subterranean termites build colonies underground and need soil to survive. Unlike subterranean termites, drywood termites live in wood above ground and do not need soil to survive. Both types of termites are more active in the warmer months, so it's essential to get your home inspected for termites in the summer before they cause too much damage.
How To Prevent Termite Infestations
Inspect areas where wood and soil meet. We recommend removing any lumber, firewood, plants, or plant-based products from around the foundation of your home.
Repair any leaks. We recommend fixing any leaking faucets or any other areas on your property where water can build up.
Seal cracks around your foundation. We recommend sealing any possible entryways that a termite can sneak into.
Termite Warning Signs
If you suspect that your home may be the victim of a termite infestation, check for the following warning signs. If any of these are in your home, contact our termite exterminators right away.
There is a hollow wood sound when tapping on wooden material in your home.
There are mud tubes on outer walls, beams, and possible crawl spaces. Mud tubes are tunnels made out of soil and wood that termites use as protection from predators.
There are cracks or bubbling paint on the walls that can be used as an entryway.
There is a swarm of winged insects around the home, along with discarded wings from flying termites.
Termite Damage Signs
Depending on what type of termites are in your home, there will be different signs of damage. If subterranean termites are infesting your home, any obvious damage signs could mean there is a full-blown infestation. These termites create mazes in your walls that could look similar to water damage. The first sign of drywood termites is cracks that come from inside the wood, and you can find them inside your furniture or walls.
What To Do When You See Termite Problems At Home
When you suspect a termite infestation, remove any moisture problem areas of the property, such as water-filled gutters, and discard any possible food sources, such as firewood and stumps. Remove any areas where wood comes in contact with soil, as these can become entry points for termites to get into your home. If there are already signs of termite damage, consider getting help from a professional pest control technician who can do an assessment and get rid of the problem before it spreads.
How Can You Fix An Infestation?
There are several solutions to resolving an infestation, including the following. Our experienced team of pest control professionals provides quick, effective solutions for termites. Contact us today.
Chemical Barrier
Fumigation
Termite baits are made of cellulose and a slow-acting insecticide that poisons worker termites and radiates towards the rest of the colony. Physical barriers will only work on subterranean termites and creates a barrier over the soil that they cannot get through, such as plastic. Chemical termite barriers act as either an exterminator or deterrent to prevent termites from entering and infesting the structure of your home. Fumigation is a last resort that pumps chemical termite treatment into all parts of your house, but homeowners will have to stay out of their house for at least three days, as this is also toxic to humans.