Flying Ants Vs. Termites
The sight of swarming insects is enough to alarm any homeowner. Pests cause disarray throughout the home and eat away at interiors and important structures. Contrary to popular belief, these swarming insects are not always termites — they may be flying ants. Our pest control team at Champion Termite & Pest Control, Inc., is trained in pest identification and is here to help homeowners rid their home of winged termites or other pests with quick, effective service. Contact us today to schedule a pest inspection or to learn more about all the pest control services we offer.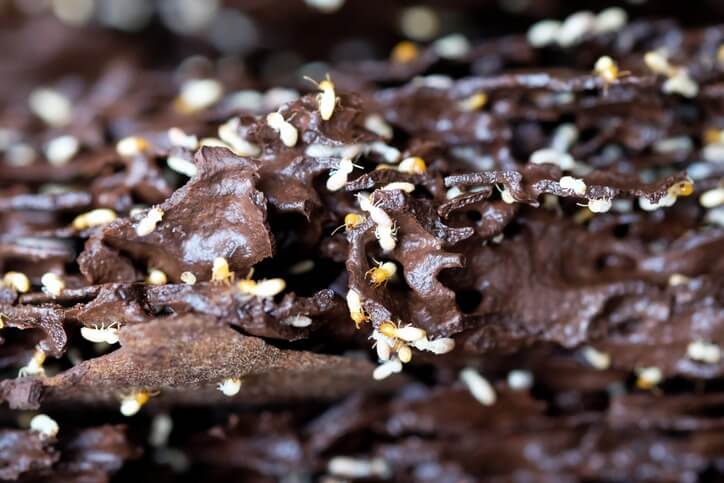 What Are Flying Ants?
Flying ants, or alates, are winged insects that travel in swarms. They appear most often in areas that are humid and warm — making Florida a perfect hotbed for flying ant activity. Like other ants and insects, they are attracted to sweet substances, such as honey and sugar. Flying ants often gravitate toward high areas in the home in order to search for a mate. These often include chimneys, attics, and treetops. The most common species of flying ant is the carpenter ant, which likes to make itself at home inside wood, especially wet or rotting wood. Unlike termites, flying ants don't feed on wood — they just nest inside it.
What Are Termites?
Termites are winged insects that burrow and feed on wooden structures, decaying trees, soil, and fallen timbers. While there are over 40 species of termites in the United States, there are two common types of termites found in Florida. These are Formosan termites and subterranean termites. Both are destructive species, form expansive colonies, and are separated into distinct classes (workers, swarmers, soldiers). Worker termites have no wings and are pale, while soldiers have large heads and mandibles. When homeowners think of termites, it's the swarming ones that come to mind. These winged insects establish new colonies and spread to different locations.
Differences Between Flying Ants & Termites
Though there is a myriad of differences between ants and termites, it can be tough for homeowners who have little experience with pests to tell them apart. To help identify the correct pest in your home, it's crucial to know the various factors that differentiate them. For a thorough termite inspection, contact our pest control company.
Appearance
Ants have elbowed, or bent, antennae, and a cinched waist, with larger forewings and smaller hindwings that are usually brown. Their bodies can be red, brown, or reddish colored. In contrast, swarming termites have straight, bead-like antennae and elongated bodies without a defined waist. They are usually dark brown or black and have two sets of equal-sized, clear wings on the front and back of their body. The size of these wings is almost double the termite's body.
Life Cycle
Both ants and termites go through distinct stages in their reproductive cycles. Flying ants cycle through four stages of development: egg, larva, pupa, and adult. The queen ants can live several years, while worker ants only live for a few months. Likewise, a termite's life cycle has three stages: egg, nymph, and adult. Termites typically live for a couple of years, while queens can survive for decades. Both types of insects are more likely to reproduce when it's warm, making them a year-round problem for Florida residents.
Behavior
Both flying ants and flying termites live in large colonies with carefully designed caste systems. Termites reside in decaying trees, rotting stumps, wood debris, fallen timber, and wooden structures. Some ants, such as carpenter ants, also live in wood and the wooden parts of structures. Termites can cause severe structural damage since they eat wood, while carpenter ants do not eat wood and thus generally do not cause structural damage.
Diet
One of the most significant differences between these two insects is their respective diets. Termites need cellulose, the nutrient-rich material in plants, to survive. This is why termites munch on wood and wooden structures. While flying ants live and nest in wood, they are omnivores and mostly eat seeds, nectar, other insects, and food or other sugary debris found inside and around the home. This is why it's important to safely store food and make sure surfaces with food are cleaned frequently.
What Can I Do To Get Rid Of Flying Ants Or Termites In My Home?
While there are several at-home termite extermination methods available, they use chemicals that can be harmful if not used correctly and might not completely remediate the problem. For these reasons, it's best to get the help of an experienced termite exterminator. Homeowners worried about a possible termite infestation should contact our team at Champion Termite & Pest Control, Inc., right away to ensure you get the correct treatment plan and to verify the pests infiltrating your home are termites. Don't let a colony multiply — get in touch with us today!