Benefits Of Bed Bug Heat Treatment
In addition to the high bed bug heat treatment success rate, this type of treatment provides numerous advantages over alternative methods of pest control for both the well-being of the property and the safety of the property's occupants. Contact us today to schedule a pest inspection or for more information about our bed bug heat treatment.
Non-Chemical Bed Bug Control
Unlike traditional control methods, such as fumigation, heat treatment does not pose any health risks to the individuals exposed to the procedure. Bed bug treatment with heat is non-toxic and completely safe for pets, humans, and the earth. Since fumigation chemicals can be toxic, the home should be ventilated before the residents return.
Only One Treatment Required
Effective removal of bed bugs at all stages of life — from bed bug eggs to full-grown bed bugs — requires only one heat treatment from our bed bug exterminators. Chemical fumigation and other treatments that require the use of pesticides typically require multiple treatments over an extended period. Get back into your home quicker with bed bug heat remediation.
Target Hard-To-Reach Areas
Our specially designed bed bug heat treatment equipment pumps heat throughout areas of a home where bed bugs are present. Pests commonly hide in small cracks and crevices during traditional infestations, which could result in re-infestation of the property in the future. Reach and exterminate every bed bug with heat treatment.
Damage-Free Bed Bug Solution
With certain exceptions to heat-sensitive items, heat treatment will not result in damage of the home or its contents. High levels of heat penetrate linens, couches, carpets, furniture, and other items to effectively kill the bed bug infestation without causing decay or harm to belongings. Customers receive a list of items to be removed from the home before treatment.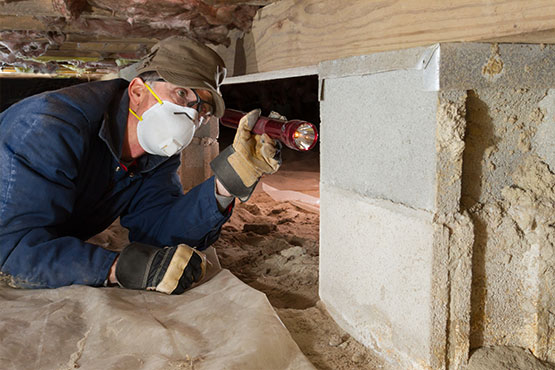 Bed Bug Inspection & Prevention Services
When it comes to treating a bed bug infestation, the application of high heat is more effective than the use of chemicals and pesticides to residential properties. The best way to prevent reinfestation of bed bugs is with regularly scheduled bed bug inspections from Champion Termite & Pest Control. Our pest control experts will identify any active pests, locate the source of the infestation, implement a proactive solution, and monitor activity throughout the home to ensure the heat treatment is effective. We offer residential customers preventative home pest control services to keep their properties both safe and pest-free all year-round. Contact us for encompassing pest control in Northeast Florida.