How to Get Rid of Spiders
July 20th, 2015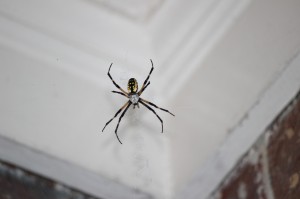 When you were a kid, you probably heard your mom say about spiders that they are more afraid of you than you are of them. It sure would be nice though if there were other things that spiders were afraid of that would keep them out of your home. With this in mind, we have created the following top 4 list of things spiders are afraid of that will help you keep these creepy-crawlies at bay and easily manageable with home pest control services in Palatka.
Impeccably Clean Rooms
Vacuuming alone is not going to keep spiders away, as they usually hide out under couches and furniture where they are less likely to be stepped on, and where they can relax in the dark. Make sure you are moving furniture to vacuum underneath furniture and in the corners of the room.
People (You)
It turns out your mom was right. Spiders are more afraid of you than you are of them. You can be even scarier to them when you know the spiders in your home and how to best get rid of them. For example, hobo spiders are big scary spiders with a dangerous bite, but did you know they do not climb? Every spider species is going to require different methods of eradication. In the case of hobo spiders, floor traps work wonders because they do not climb walls, furniture, or ceilings.
Natural Deterrents
Spraying natural deterrents that you probably have at home such as vinegar around windowsills and door frames will keep spiders away from your home. You can also use peppermint oil instead of vinegar or a combination of peppermint oil, vinegar, and water. Spray this around door frames, windowsills, and around your water heater and utility appliances, where spiders like to hang out.
Professional Pest Control
The best way to get rid of spiders and keep them out is to hire a professional pest exterminator such as Champion Termite & Pest Control in Palatka, FL. They know where and how spiders get in and can target spiders where they are most likely to be.