How To Prepare For Termite Swarming Season
Spring is a time of celebration. A season where the frost melts away, the flowers begin to bloom, and the outdoor barbeques can officially get underway. This year, spring has come early, arriving in mid-March. Unfortunately, the arrival of spring also marks the beginning of the termite swarming season. During swarming season, large clusters of flying termites known as "swarms" will start appearing around homes. These swarms are searching for a new place to settle down, build a colony, and reproduce. As a homeowner, the last thing you want is a swarm of termites building a colony anywhere in the vicinity of your house. After all, termites are some of the most destructive pests out there, capable of causing thousands of dollars in structural damage to a home.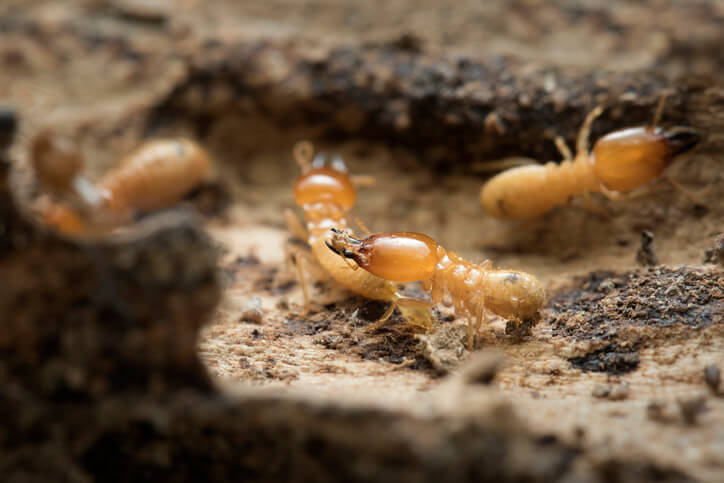 Fortunately, by taking a few preventative and precautionary measures, homeowners can mitigate the risks posed by swarming termites. Prepare your home for termite swarming season with these tips from the experienced exterminators at our pest control company.
Contact Champion Termite and Pest Control, Inc. today to request a free estimate on termite treatment!
Remove Potential Food Sources
A termite's diet primarily consists of the cellulose found in wood. Accordingly, termite swarms will be seeking to establish a new colony someplace with plenty of access to wood and anything else containing cellulose. So, to keep their homes as unappealing to termites as possible, homeowners should remove all non-living wood from their property or at least store it far away from their house's exterior. Anything containing plant fibers such as construction planks, firewood, cardboard, plywood, sheetrock paper, etc., is best kept at a considerable distance from one's home during termite swarming season. Stumps, in particular, are a termite swarm's paradise and should be removed from a property before swarming season begins.
Cover Vents With Screens
One of the most common ways termites infiltrate a home is by entering through ductwork. Homeowners can combat this method of infiltration by sealing their vents with a stainless-steel woven wire mesh. Covering vents with mesh screens is an excellent long-term solution for preventing termites from entering a home. If you're serious about fortifying your home against termites, take some extra time to seal any cracks or holes on your home's exterior walls with caulk.
Reduce Moisture Around The House
Like all living things, termites require ample access to water in order to survive and be attracted to homes where an abundance of moisture is available. Conditions such as moist soil or pooled water around a home's foundation create an ideal environment for termites and attract swarms. To stop this from happening, reduce the moisture around your home as much as possible during the swarming season. Double-check that your home's sprinkler system isn't causing water to pool anywhere in your yard and ensure your gutter's downspouts are diverting water away from the home's foundation.
Trim Back Heavy Brush Near The Home's Exterior
Overgrown bushes and shrubs near the exterior of a home are incredibly appealing to termite swarms, as they offer access to plenty of cellulose and moisture. For these reasons, heavy brush often becomes a breeding ground for termites. Worse yet, overgrown brush that comes in contact with a home's exterior walls acts as a sort of bridge for termites and may end up leading them inside. Keep termites at bay by trimming the bushes and shrubs around your home's exterior back a couple of feet at the beginning of swarming season.
Schedule A Termite Inspection
The best way to fortify your home against termites is with the assistance of an experienced and knowledgeable exterminator. A routine termite inspection from one of the pest professionals Champion Termite and Pest Control, Inc., can help limit the risk termites swarms pose to a home. During an inspection, one of our exterminators can help homeowners recognize signs of a budding infestation as well as identify potential problem areas around the property. After a thorough examination of the home's interior and exterior has been completed, we develop a customized protection plan for your property. Our advanced termite spray and pest control practices may be all you need to get rid of swarming termites. Contact us today to schedule local pest control services!