7 Tips To Keep Pests At Bay In The Pantry
The idea of having pests in your house is upsetting enough, but one place you absolutely don't want to encounter them is in the kitchen pantry. Bugs crawling on your food aren't only repulsive but can also create health risks for your family. At Champion Termite & Pest Control, we've made a list of easy steps for keeping pests out of your pantry (and, hopefully, your entire house).First, let's get you acquainted with common types of pests in Florida, where humidity and tropical foliage comprise the ideal setting for bugs of every size, shape, and color to live, thrive, and, worst of all, multiply.
When we're performing pest control and extermination services in Palatka, for example, critters we might encounter include: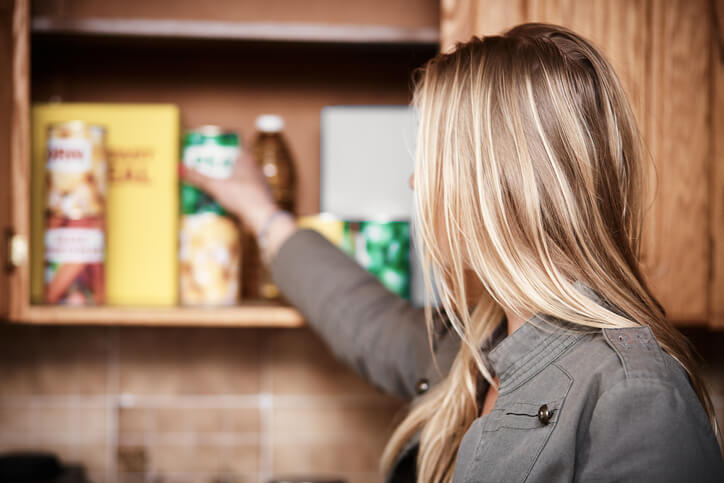 Sawtoothed grain beetles
Cigarette beetles
Drugstore beetles
Mealworms
Granary weevils
Rice Weevils
Spider beetles
Grain moths
Sweet potato weevils
Flour moths
Lesser grain borers
Bean weevils
Warehouse beetles
Flat grain beetles
Any of these beetles, weevils, and moths could find their way into your cabinet at some point. You'll notice that several of these pests also have food-related names, such as grain moth and sweet potato weevil. But, as you might imagine, that doesn't give them the right to hang out next to your cereal, canned fruits, or granola bars.
Here are seven ways to keep pests out of your pantry.
1. Keep Perishable Foods In The Fridge
The pantry is designed for dry goods with a stable shelf-life. Perishable foods that go bad quickly at room temperature, such as fresh produce, should only be stored in the fridge. If you've ever had a fruit bowl, you might have seen a few fruit flies hovering over your ripe apples and bananas. Now imagine the pests a forgotten banana in the back of the pantry would attract!
4. Clean Your Kitchen Regularly
What happens in the pantry doesn't always stay in the pantry. When you bring out foods to cook with, make sure not to leave ingredients or dirty dishes on the countertops. Leftovers invite kitchen moths, flies, beetles, and sometimes larger pests, which can then find their way into your cupboard. Cleaning food scraps right away also reduces the potential they'll fall on the floor. Many of the kitchen infestations we've treated originated with fallen foods under the cabinets or between the appliances.
2. Add Bay Leaves To Rice & Grains
Many people store spices in the pantry. Besides adding flavor to your meals, certain spices can also double as pest repellants. Bay leaves, in particular, emit a pungent aroma that pests find reprehensible. Placing a few bay leaves into your containers of flour, grains, and rice won't affect the food's flavor, but it will keep the bugs at bay.
5. Make Sure Items Are Sealed Before Purchasing Them
Ironically, most pest infestations are actually pest importations: the bugs are carried into your home from the outside world, and grocery-store items are usually their cruise ship of choice. Each time you pick an item at the store, whether it's pancake mix or trail mix, double check the packaging is factory sealed. A loose box top or slit in the plastic bag could serve as an entryway for pests looking to travel from the store into your home.
3. Use Air-Tight Containers
Food isn't the only attractant of bugs — sometimes, they simply want a cozier environment to relax in than they find outdoors. However, by walling off dry goods in sealed plastic and glass containers with secure lids, you can not only organize your pantry but also prevent pets from accessing your foodstuffs.
6. Throw Away Expired Foods
For obvious health reasons, you shouldn't eat expired foods. But there's another benefit to cleaning out your pantry regularly: you reduce the incentives for pests to get in. Expired foods usually have pungent scents that attract bugs more intensely than unspoiled foods. In fact, when we're called to exterminate a pest infestation in the pantry, the hub of it all is often an expired package of food. However, a monthly sweep of your pantry should be sufficient to eliminate old items that attract beetles, moths, and weevils.
7. Schedule Pest Control Services
Next to proper cleaning and food storage, having our pest control and extermination company perform chemical pest treatments is the easiest way to prevent an infestation of your cupboards. Over-the-counter pest products often contain toxic chemicals that shouldn't be used near food. But we offer EPA-approved products from Termidor, Premise, and Top Choice to ensure your family and pets are safe. While the kitchen is a focal point of our 12-step pest control program, our exterminators in Palatka also treat areas inside and outside the home. In the end, your pantry stays pest free because bugs never travel past the front door.
From kitchen moths and beetles to bed bugs and termites, eliminate pests from your home by scheduling pest control and extermination services with Champion Termite & Pest Control today!