Natural Ways To Get Rid Of Mosquitoes
Florida may be synonymous with sunny weather and beaches but ask anyone who's lived through the rainy summer season — mosquitoes are just as unmistakably Florida. Aside from ruining just about any backyard cookout party, mosquitoes can transmit deadly diseases. Unfortunately, far too many over-the-counter mosquito repellents contain harsh chemicals for humans, pets, and the environment.
To help you better fend off these buzzing vermins, our pest control experts have gathered some simple but effective natural mosquito repellants.
Should the problem persist, don't hesitate to contact Champion Termite and Pest Control, Inc. to schedule pest control services.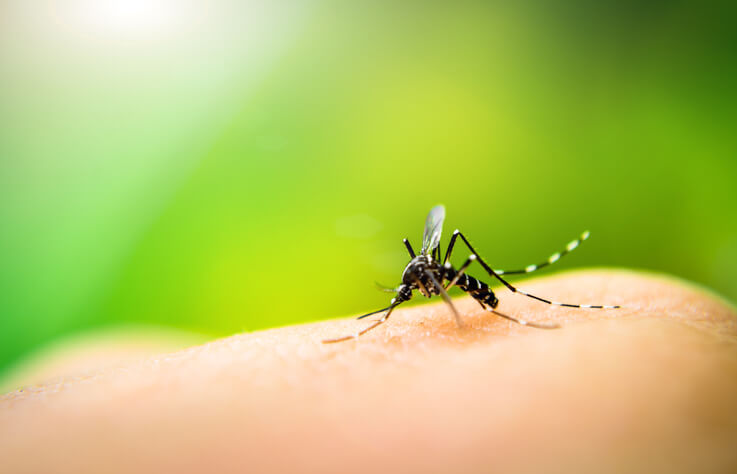 Plant Natural Deterrents
There are hundreds of herbs and flowers with natural mosquito-repellent properties. Most work relatively the same way by emitting scents that simply drive mosquitoes crazy or kill them. Depending on the species, you may be able to plant some indoors, on a windowsill, or kitchen counter. Planting some in your backyard could also prevent mosquitoes from setting up a breeding ground near your home in the first place. Just make sure all potted plants have proper drainage to prevent water from pooling in them and allowing mosquitoes to settle in.
The following includes some popular house and garden plants to ward off mosquitoes.
Catnip
Basil
Garlic
Peppermint
Rosemary
Pennyroyal
Geraniums
Sage
Tulsi
Lavender
Marigolds
Lemon balm
Lemongrass
Citronella
Essential Oils
If you don't have time to garden or take care of houseplants, you can get similar results using essential oils. Some popular varieties with mosquito-repellent properties include lavender, mint, tea tree, and basil. You can use a spray bottle to disperse some diluted oil inside your home or backyard. However, for better results, use a high-quality diffuser.
Dunks & Bits
If you live near a standing body of water or a muddy area, consider using dunks and bits to prevent mosquito larvae from maturing in the first place. These products are widely available in hardware stores. Dunks and bits contain Bacillus Thuringiensis Israelensis or BTI for short, a naturally occurring bacteria that prey on mosquito larvae. Read the instructions carefully before placing any in your backyard, and don't worry — BTI is not harmful to the environment or other wildlife.
Dry Ice
If you happen to use dry ice for your weekend BBQ cookouts, you could use the leftover ice to attract and trap nearby mosquitoes. Simply place the ice inside a temperature-safe container (using gloves, of course) and set the trap exposed for mosquitoes to enter. Dry ice emits carbon dioxide, which attracts mosquitoes, killing them in the process.
Pinion Wood & Camphor
Pinion wood is a common fireplace wood with similar mosquito repellent properties. Simply burn some in a fire-safe container and watch those pesky buzzers go crazy and fall to the ground. Camphor is another excellent alternative. Just close all windows and doors and burn some in a fire-safe container. After 30 minutes or so, your home should be mosquito-free.
---
If your mosquito problems persist even after using these natural remedies, consider scheduling pest control services with a reputable pest control company like Champion Termite and Pest Control, Inc. Our pest exterminators can inspect your property for pest breeding grounds or entry points to deal with the infestation once and for all.