Wasps In The Winter? It Can Happen To Your Home
During the warmer days of winter, you might be surprised to find a lone wasp wandering inside your home near a window, the attic, or the fireplace — well, you're not alone! The stranded insect is most likely a paper wasp, a type of wasp known for its umbrella-shaped and paper-like nests. While the presence of a single wasp inside your home is unlikely to pose a threat to your family, more than one wasp might be a sign of a colony in the making. To be safe, learn more about where these pesky invaders come from and how to keep them out, then contact our pest control company, Champion Termite & Pest Control, Inc. to schedule a pest inspection.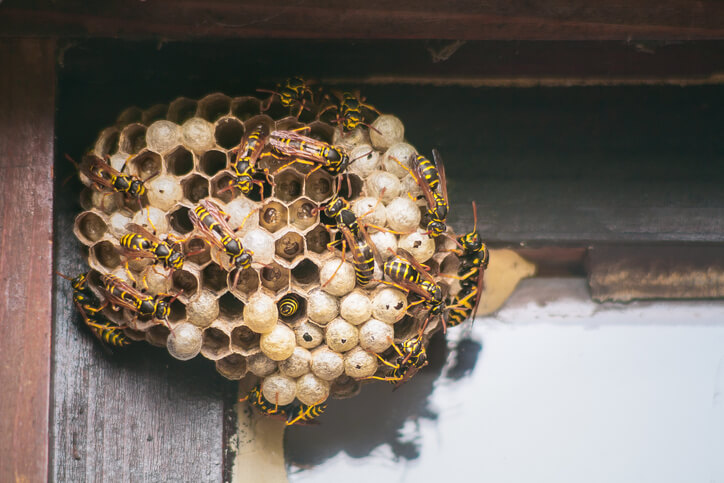 Where Do Wasps Go In The Winter?
Most wasps in a colony die before winter in the late summer or early fall, except for the fertilized females who must find a warm place to endure the winter cold. These future queens typically hibernate outside under bark, logs, and sometimes under siding and shingles. Occasionally, however, they may find a way inside a house through small crevices near the roofline or similar openings around the house. Once inside, wasps will hide and rest in wall voids, attics, or somewhere dark and warm. While they hide, residents are unlikely to notice any wasps inside the house. As soon as temperatures start rising, these soon-to-be queen wasps will try to find a way outside to begin a new colony.
How Do Wasps Get In The House?
Most adult paper wasps measure about 1-inch in size, making them small enough to fit through small gaps and crevices in your house. To keep these and other similar pests far away from your household, hire a pest exterminator to survey your property for any potential entry points for pests. Some of the most common areas requiring sealing include:
Windowsills & Frames
Chimney Caps & Flues
Attic & Crawl Space Vents
Dryer Vents & Exhaust Fans
Electric, Gas & Plumbing Lines
Roof Siding, Soffits, Fascia & Shingles
While preventing pests from coming inside the home should be a top priority for homeowners, an effective insect control strategy should also include inspecting and treating the area surrounding the home. If a paper wasp has made its way inside your home, chances are, it came from a nearby nest, and there's probably more wasps looking to get inside your house. To more effectively remove wasps from your property, schedule pest control services regularly with an experienced wasp exterminator.
Wasp Control In Middleburg, FL
While it's unusual for a wasp infestation to plague your home during the winter season, a stranded wasp inside your household could be a sign of a bigger problem. Left unattended, gaps and cracks in your home's walls, roof, and foundation can allow harmful pests in over time, especially when summer rolls around. So, don't wait for pests to overrun your house. Contact our pest exterminators with Champion Termite & Pest Control, Inc. for competitively-priced and reliable pest removal services in Middleburg, FL.