Everything You Need to Know About Bed Bugs
Bed bugs are one of the worst pests homeowners can deal with. Difficult to spot, hard to kill, and able to rapidly increase in number, bed bugs can be found throughout the world and are only increasing in population. To help ensure you're informed about bed bugs, our pest exterminators at Champion Termite and Pest Control, Inc. have outlined key information you should know about bed bugs.
If you suspect a bed bug infestation in your home, contact our pest control company today for bed bug control and treatment services! Don't hesitate to schedule a pest control appointment with our pest exterminators, and save some money with our pest control coupons!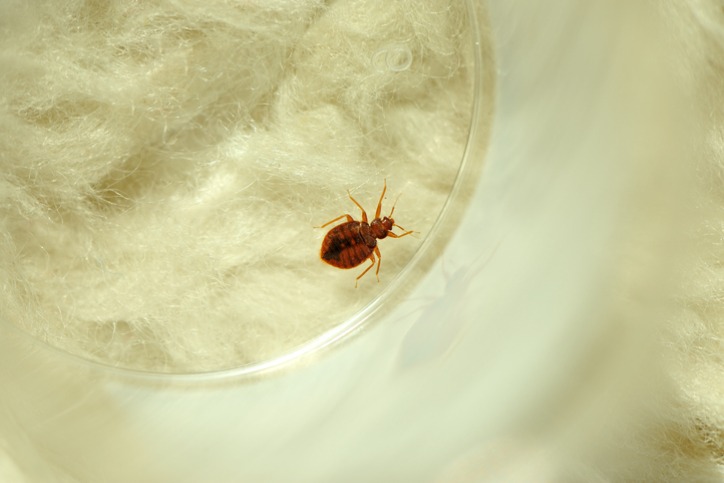 What Are Bed Bugs?
Bed bugs are parasitic insects that do not stay attached to the host, unlike other parasites, such as ticks. Instead, they are small, wingless insects that feast on human blood then retreat to their hiding place, where they live. These insects are nocturnal and are primarily active at night.
What Do Bed Bugs Look Like?
Adult bed bugs have a smaller, oval-shaped head with six legs and two antennae. They are about the size and shape of an apple seed and are reddish-brown. Newly hatched bed bugs, also called nymphs, are whitish and color and are roughly the size of the head of a pin, which can make them difficult to see.
Do Bed Bugs Spread Disease?
Even though bed bugs are parasitic insects and bite humans, they are not known to spread diseases, unlike mosquitoes and ticks. While severe allergic reactions to bed bug bites are rare, they can cause small, itchy marks on the skin, which don't look different from other bug bites making it hard to tell from bite marks if you have bed bugs.
What Are Signs Of Bed Bugs?
One of the most obvious signs of bed bugs is bite marks, which mainly occur during sleep. If you notice bite marks, your next step should be to carefully examine bed linen, seams, and tufts of mattresses and box springs for bugs or their eggs, which will look like pale poppy seeds. Also, make sure to check for brown or rust-colored stains on mattresses and other materials, as this is a common sign of bed bugs. If your home is a victim of a bed bug infestation, the bed bugs may produce a coriander-like odor.
Where Do Bed Bugs Live & Hide?
Bed bugs feed on human blood and prefer to live close to their victims. In addition, they are nocturnal, which means they prefer to live where people will rest for extended periods, such as where people sleep or spend long hours sitting. Unfortunately, these are also where bed bugs like to hide, but they can also be found in some rather strange places, such as picture frames, electrical outlets, electronics, and toys, but this is only if the infestation is large enough.
How Do You Get Rid Of Bed Bugs?
As bed bugs can hide in many places around the home and are relatively small, they are not the easiest insects to remove. They are also very hardy insects, being able to survive a year without a meal and withstand temperatures between 0-125 degrees Fahrenheit. Our pest control company offers bed bug heat treatments, which are a safe and effective alternative to traditional fumigation with chemical solutions. We can help you identify and locate the bed bugs in your home, as well as come up with a treatment plan to help get rid of the bed bugs permanently!