Important Questions To Ask a Termite Exterminator Professional
April 8th, 2016
Termites are nasty little insects that look like little white ants. The facts that they like to snack on wood and often go undetected to the human eye make them prone to causing damage. Termites can wreak havoc on wooden structures including buildings and fences. They also like to eat trees and other crops. Termites sometimes attack trees that have a low resistance to damage. They typically don't bother with fast-growing plants. Termite infestations often go unnoticed until the damage is significant. If you suspect a termite infestation, then consider these questions when choosing a termite exterminator in St. Augustine.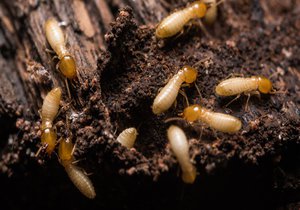 What Is The Damage?
One of the most important questions for any homeowner to ask is the extent of the damage. Ask the exterminator to show you the damage so you have an idea of how bad it is and what you're paying for.
What Type Of Treatment?
Another question to ask is what type of treatment the St. Augustine exterminator will use. There are different methods for killing termites, so you want to be confident that you approve of the method they will use. This is especially true for homes with kids, pets, or those not susceptible to health problems. Find a method that is safe and non-toxic.
How Long Will The Treatment Take?
No one wants to be in the dark about specifics. Ask how long the treatment will take so you have a ballpark estimate of how intrusive the treatment will be to your daily life.
How Long Until You See Results?
It takes time for termites to die. You should ask what time frame you can expect results. Termites typically don't die instantly, so it's important to ask. Find out if there is any sort of guarantee if the termites aren't gone by a certain time.
How To Prevent Future Pests?
For optimal St. Augustine termite control, ask your exterminator if there is anything you can do to prevent a future infestation from termites or any other pest. This could save you tons of money and headache in the future!