How To Prevent Fruit Flies
While mostly harmless, fruit flies are still at the top of many people's list of most dreaded pests, and if you've ever dealt with a fruit fly infestation, you understand why. Endlessly annoying and capable of reproducing rapidly, a single fruit fly hovering around your kitchen can turn into a full-blown infestation of hundreds if not thousands in a mere matter of days. Worse yet, once they've moved into a home, they become tough to evict. With summer just around the corner, these pesky pests are going to start appearing more frequently. Don't let fruit flies take over your kitchen this summer. Use the following tips from the experienced pest control exterminators at Champion Termite and Pest Control, Inc. to prevent fruit flies from infesting your home!
Contact us today to schedule a free pest inspection or learn more about our pest control services!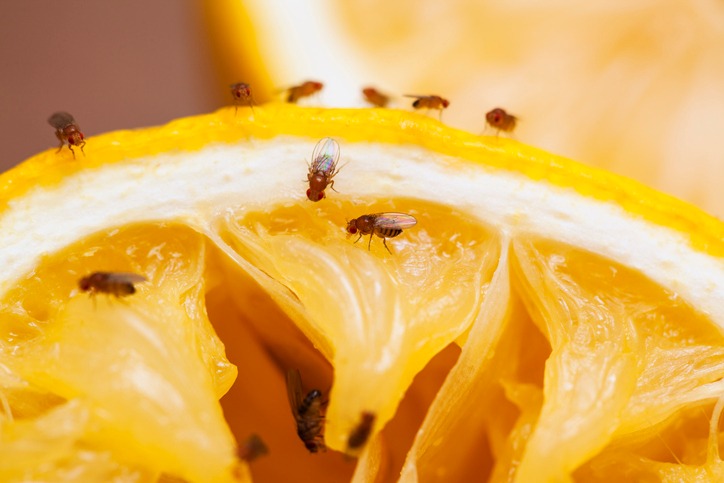 Keep Your Kitchen Clean
The cardinal rule of fruit fly prevention is always to keep the kitchen as clean as possible. Specifically, any surfaces that food frequently comes into contact with, such as kitchen counters, should be wiped down or washed as soon as they're no longer being used. Do your best to wipe down your kitchen counters with an all-purpose spray and microfiber cloth at least once a day. Also, never leave dirty dishes out overnight. Always rinse your dishes off and put them in the dishwasher before heading to bed for the night. Finally, empty your trash can regularly, and be sure to clean up any residue that accumulates at the bottom of your receptacle.
Wash Your Produce
Fruit flies are notorious for hitching rides on produce, especially bananas and melons, from grocery stores into people's homes. Because this is one of the most common ways fruit fly infestations occur, it's recommended that homeowners always wash the fruit and vegetables they bring home before putting them away. Rinsing produce as soon as you get home is to remove fruit flies and their eggs from your produce. Additionally, storing fruit in the refrigerator rather than on the kitchen counter can help prevent the scent of ripening fruit from attracting fruit flies.
Deter Them With Natural Fragrances
A bit of natural pest control can go a long way in the prevention of fruit fly infestations. Peppermint, basil, lavender, eucalyptus, lemongrass, and clove all produce scents that fruit flies have an intense natural aversion to and can help deter them from your home. Simply place a few of these fragrant herbs in a tea bag and place them around the house. Alternatively, you could also purchase an essential oil diffuser with one of these scents and set it in your kitchen. The best part? You get to deter pests and freshen your home at the same time — a definite win-win!
Call An Exterminator
Once fruit flies have infested a home that presents them with suitable living conditions, they become challenging to eradicate. The minute you recognize an alarming population of fruit flies in your home, don't hesitate to seek help from our experienced pest professionals. Our pest experts can eliminate fruit fly infestations and provide services and guidance that may aid in the prevention of future infestations. Fruit fly populations multiply at a startling rate, so don't wait — contact Champion Termite and Pest Control, Inc. today to schedule pest removal for your home!