Keep Your Kitchen Pest-Free With These Easy Tips!
There's perhaps nothing quite as off putting and terrifying as spotting a rogue creepy crawler in the kitchen. The mere sight of a cockroach is enough to send most people screaming away. Unfortunately, if there's a place pests like these love to settle in, it is, without a doubt, the kitchen. Unsealed food scraps, oil stains, and half-full trash cans are all gold mines for pests. Even the most diligent of home cooks could see their appetites ruined by a pesky insect.
But, not to fear — with these simple pest-proofing tips, courtesy of our pest control experts at Champion Termite and Pest Control, Inc., you can say goodbye to those pesky bugs and start cooking in peace.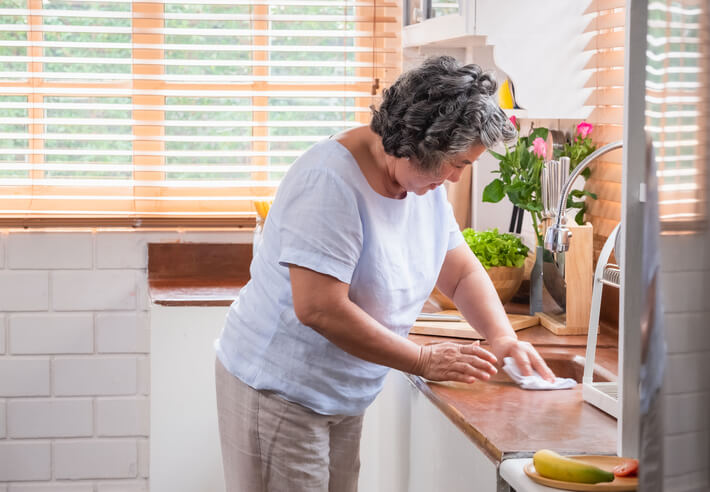 Unsure whether you even have a pest problem? Use our pest identification guide to help you and contact our pest company today to schedule a pest inspection.
Avoid Leaving Dirty Dishes Overnight
Yes, we know sometimes you just can't find the motivation to finish them, but leaving dirty dishes overnight is almost guaranteed to attract bugs into your home. If you really can not spare some time to wash them, at least give them a good rinse in the sink. Leave no scraps around for pests to enjoy, and if using a garbage disposal, make sure there's no residue left inside.
Empty Your Trash Cans Regularly
Even if your kitchen bin is made of stainless steel and has a seemingly perfect seal, make sure to take out the trash at least every other day. You'd be surprised to know how easy it is for some bugs to make their way in through tiny crevices. Worse yet, the smell of food might be more than enough motivation for them to see themselves in.
Keep All Surfaces Clean
This one should go without saying but there are many areas in the kitchen people forget to clean. The inside of your oven is one of them. Yes, you should clean it even if it is labeled as a self-cleaning oven. Do so at least every three months or when you notice burnt food or smoke when you are baking. Remember to remove the racks and clean those separately.
Keep Your Kitchen Dry
Bugs love moisture, and aside from your bathroom, your kitchen is likely to be where most is concentrated. When boiling or simmering, make sure to turn your extractor. Look under where the fan is and clean any grease stains. Wipe down any spills right away and make sure your sink faucet is not leaking.
Use Indoor Plants To Your Advantage
We've all heard of pitcher plants and their appetite for flies. Well, if your kitchen has some natural lighting, then it would be a good idea to have some around. Similarly, fragrant herbs like rosemary can deter cockroaches from settling in. Check out our guide for more popular pest-repelling plants.
Schedule A Pest Control Inspection
This is important to keep pests away not just from your kitchen but your entire home. A reputable and licensed pest control company like Champion Termite and Pest Control, Inc. can examine your home for any signs of pests thoroughly and determine the best pest control services and products for your situation. Call our exterminators today for a free estimate!