Top Myths About Bed Bugs
May 4th, 2018
Bed bugs have taken America by storm! It's like one of those 1950s science fiction shows: Bullets can't stop them! Dynamite can't kill them! Just like the many myths of radiation and nuclear bombs in the '50s, there are myths surrounding bed bugs today. At Champion Termite & Pest Control in Jacksonville, FL, we help people get rid of their bed bug problem. Fortunately, we don't have to try dynamite. Here are some myths and facts about bed bugs.
Bed Bugs Like Dirty
Bed bugs don't discriminate in environmental living conditions. A clean home or hotel room is just as likely to be infested by bed bugs as a dirty one. Bed bugs thrive where people are. Look for black spots and bed bug carapaces in-between the mattresses and behind the bed board.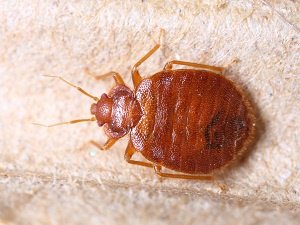 Bed Bugs Travel Well
It's true that bed bugs travel well. They like to hitch rides in suitcases and on clothes. Using a garment bag and keeping your bags off the floor may help you avoid bed bugs.
Bed Bugs Transmit Disease
There have been no known cases of bed bugs transmitting disease from one person to another. Their bites may be annoying, but at least, you don't have to worry about illness.
DIY Treatments Work Well
Bed bug removal is not for the faint of heart. Most of the solutions available to the average person are extremely toxic with questionable effectiveness. Bed bugs are usually treated with contact poisons, which means the insecticide has to touch the bed bug in order for it to die. These poisons do nothing to the eggs that hatch later. Nor do they reach into the bed bugs' hiding places. Professionals know how to manage toxin applications and may offer heat treatment. If you can't maintain a strict schedule and purchase the protection you need for your furniture and beds, getting someone to come in and increase the ambient temperature of the infested area will make sure you aren't faced with long-term intruders.